The great thing about inflatables is that they're designed to be more comfortable and less restrictive than traditional foam life jackets. As we like to say, "more buoyancy, less bulk." With that in mind, it's important to wear a life jacket that fits properly, and finding the right fit comes down to following a few key steps.
Does an inflatable life jacket fit differently than other life jackets?
One of the main reasons many anglers, paddlers, sailors, and boaters choose inflatable life jackets over other types is due to their unique fit. Thanks to their intuitive design and slim profile, inflatables offer a greater range of mobility as opposed to their larger foam counterparts. They also fit more snug to the wearer's body which reduces obstructions and stays out of the way on the water. In most cases, those who wear inflatables claim it feels like they're not even wearing a life jacket at all.
If you're in the market for an inflatable life jacket but don't know where to start, check out our sizing and buying guide to find the best option for you.
Adjusting and fitting an inflatable life jacket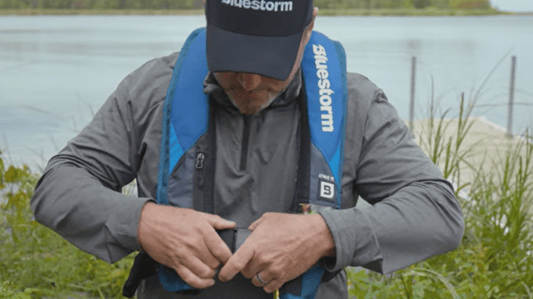 There's more to donning and fitting an inflatable than throwing it over the shoulders and calling it a day. In order to ensure the device fits properly, follow the instructions below:
If the life jacket is inflated before donning, release air from the device by using the oral inflation tube.


Loosen the belt side adjuster(s) and place your arms through the left and right sides of the vest.


Secure the front buckle closure.


Adjust by holding on to the side of the vest and pulling the waist adjustment belt to fit snug.


Secure the loose end of the waist belt in the black belt loop.
There's one more important thing to remember when fitting your inflatable before an outing on the water. Never wear an inflatable life jacket under any type of clothing. Always don the life jacket over your shirts, hoodies, or jackets.
There you have it — ensuring the proper fit is as simple as that. If you'd like to get a more visual perspective, check out the video below on how to adjust and fit the Bluestorm Atmos 40 inflatable life jacket, plus see additional features and how to manually inflate. This USCG-approved Type 2 inflatable life jacket provides 40lbs of buoyancy and automatically inflates when immersed in water.
Need More Information?
Check out Bluestorm inflatable PFDs and rearming kits for additional security on the water. Contact us with any questions.